Last updated on August 16th, 2022 at 03:27 pm
*This post may contain affiliate links. As an Amazon Associate we earn from qualifying purchases.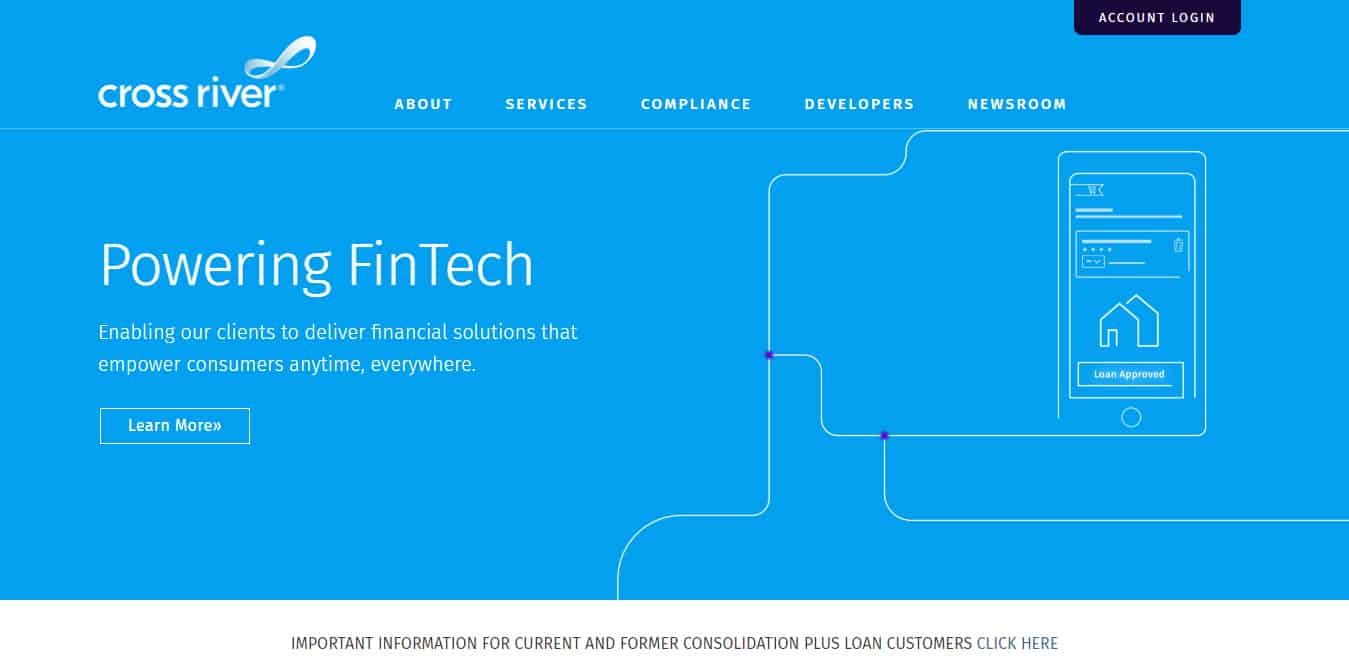 Image Screenshot from Cross River Bank
So, you're considering taking out a loan. Our first piece of advice to you is—don't. Depending upon the type of loan you sign, if you get approved, you're going to be beholden to your lender for anywhere from a week to five or ten years into the future. Slavery may not be legal in America, however, a loan is about the closest thing to slavery that continues to exist in America. Sure, a loan might seem like the best way out of a financial bind right now, but surely there must be other options before turning to Cross River Bank. Maybe it's finally time, after all these years, to call Dad or Mom, or Grandpa or Grandma. Are all of those people out of the picture? Think carefully before making yourself a consensual slave. Maybe you have a friend you can ask for cash. Because the reality is, friend, if you take out this loan, you're going to be a slave to the bank. It means that for all of your waking hours, you're not just working for yourself. If you work an eight-hour day, potentially about four hours of that work day are hours that you're working for the bank. And that's why, if you're going to use debt financing, you've got to make sure that it is your absolute last choice.
Wow! You're still here. We guess you really don't have a lot of options. Okay, if that's really the case, then we guess you should take out a loan to get out of this fix you've gotten into. But don't say we didn't warn you, because when you take out a loan, you're reducing your net worth. It makes you a less viable partner for someone to marry, and it depletes assets that you'd otherwise have available to care for your family. In the long run, it's going to be a losing deal, so get out now while you still can. But we see that you're ready to do some serious financial blood-letting.
Okay, well, let's figure out the way to keep you from hemorrhaging your net worth too much. Now that you have somewhat of a sense of the gravity about what you're about to do and you understand that a personal loan is usually very difficult to leverage. Let's look at all of these bad options, so you'll end up with the one that will hurt you the least. Remember, you're financially becoming a slave of the bank. So let's, at least, make sure you're becoming a slave to a somewhat merciful master.
What Is Cross River Bank?

Image from Cross River Bank
Cross River Bank is the "Web 2.0" of the banking industry. It's promising to do what Amazon did to retail. But not so fast. We'll get to its lofty "fintech" goals in just a bit. Sure, Cross River Bank will paint a rosy picture of your loan, as will the rest of them. They'll try to sell loans to you as a "financial tool" that is not to be feared in the least. 
After all, any notion that loans are bad is old-fashioned and doesn't apply anymore. Recognize that this is just marketing language designed to make you feel as comfortable with the loan as possible so that you'll pick the loan being sold over all the other ones. For this reason, all the banks will paint rosy pictures of their loans. Cross River Bank is no exception in that regard. This is serious business you're getting yourself into, but we realize you don't have any other option.  
Range and Type of Services Offered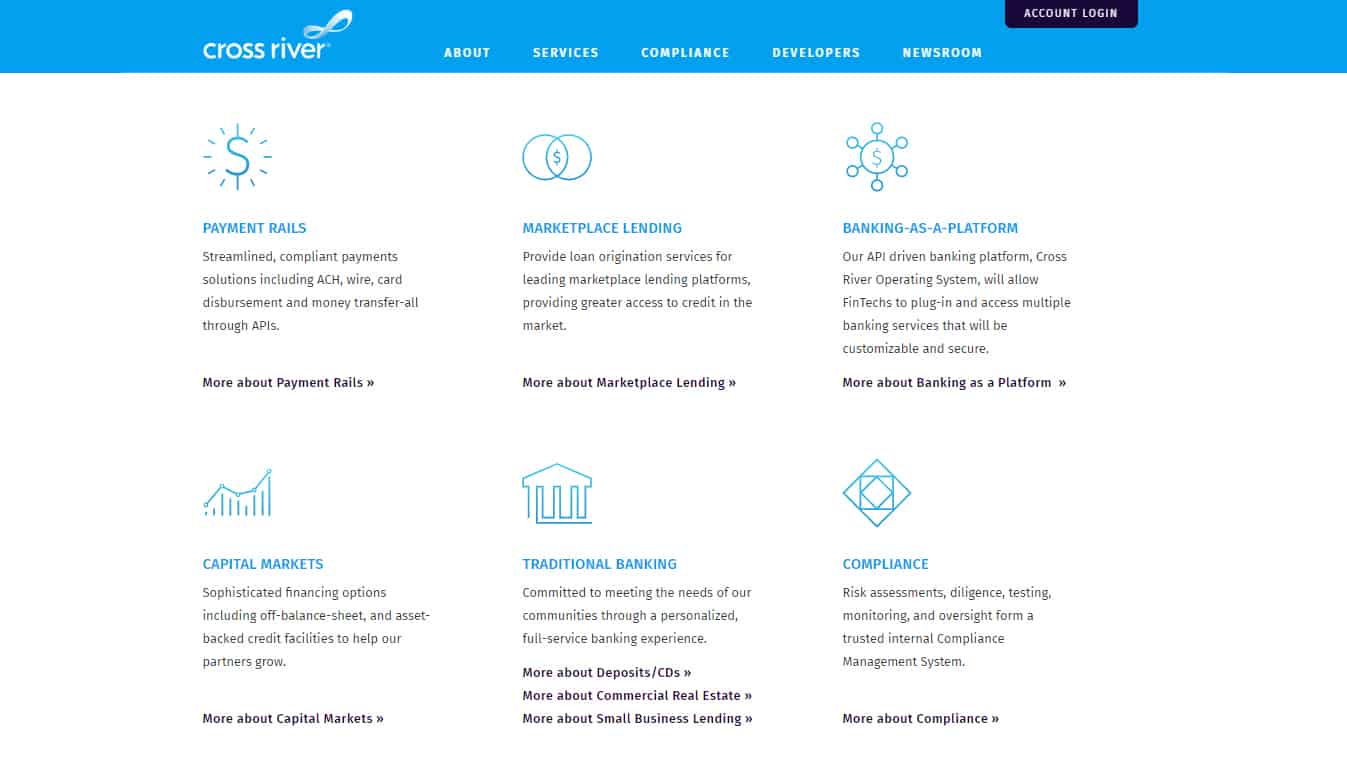 Image Screenshot from Cross River Bank
Cross River Bank offers personal banking services of the traditional sort in New York and New Jersey but has a very heavy emphasis on loans for small businesses. No doubt, you'll be able to apply for a loan at one of their branches in either Teaneck, New Jersey or the Loan Center that just opened in Brooklyn.
You can open a checking or savings account as you would at a traditional bank as well as apply for a secured or unsecured loan.
Pricing
You always want to be careful when you're dealing with any kind of loan company, because their rates are always dependent upon current market conditions as well as your credit score. That's why it's somewhat difficult to objectively compare the pricing and interest rates of one bank to another. A complex stew of factors goes into the individual loan you receive, and when you compare the interest rate they're offering for the length of your loan, it may be difficult to compare to the interest rate of a loan from another bank which lasts a different amount of time.
Always thoroughly read the literature provided to you by your bank before signing anything, and if possible, be sure to wait at least a day or two before finalizing anything. Depending upon the length of the loan and the amount, it's a big decision which could have big ramifications for you across all areas of life. Again, it's never a great idea to sign a loan, however, on the business side, if you are confident you'll be able to make the cash back, just know that you're taking a risk and you'll face big consequences if you can't live up to the terms of the loan.
How It Compares
We picked a few similar products available on the market to see how they compare.
Citizens Bank

Line of Credit

Upstart
Cross River Bank

Price
(Varies Based on Your Credit, Amount, Purpose of Loan, & Current Market Conditions)
Interest Rates
Interest rates vary based on your credit, amount, purpose of the loan, and current market conditions. It's impossible to predict what Cross River Bank will be doing at the time you read this article, because it can change—and often does—whenever Cross River Bank desires it to. 
Loan Options
Cross River Bank offers the same kinds of loans you'd expect most personal banks to offer. It also extends lines of credit for businesses and offers mortgages. Direct lending, CRE loans, and fintech are some of the areas it's involved in. It primarily finances loans for properties located in Connecticut, New York, and New Jersey metropolitan areas.
What Cross River Bank really exists to do, beyond its basic personal banking roles which you can accomplish as a consumer at its branches, is to empower other companies to offer various banking products. One of those companies is actually included a little later in this report; it's called Upstart. Cross River Bank is big on what it calls "Banking as a Platform," so most consumer clients of the loan operation would likely do business with Cross River Bank through another business, like Upstart.
Public Opinion
The public opinion of Cross River Bank is more of an abstract understanding of it, because normally when the public does business with Cross River Bank, they're doing business with it indirectly. Sometimes the public has a difficult time understanding exactly what Cross River Bank does or how they aspire to be different. Cross River Bank's management tries to keep it small and nimble so that regulatory requirements won't stifle it from growing and adapting like many stodgier kinds of larger banks mired in red tape that prevents technological advancement.
Loan Terms
Because the methods used by Cross River Bank are unconventional and indirect, it's really a very complicated discussion. Yes, Cross River Bank is aspiring to combine the best of "fintech" with the best of the traditional bank. They're fond of hyping techy-sounding buzzwords, like "plug and play," when talking about the "wide swath" of banking services offered.
Pros
Tech-savvy

Nimble and adaptive

Well-funded

Marketplace lending superb
Cons
Has difficulty describing its competitive edge

Often focuses on its dealings through other companies
Citizens Bank

Citizens Bank is more or less a traditional bank that is moving into the tech arena at the same rate other banks are. Known for its folksy ads and long hours, as well as convenient supermarket locations predominantly in New England, Citizens Bank is a household name that propels itself on the marketing ideal of neighbors helping others and being "good citizens."
Price
Consult your Citizens Banking specialist to talk about taking out your mortgage or personal loan. Citizens Bank also extends lines of credit directly to business owners. You generally have to demonstrate that your business has been up and running for at least a couple years in order to secure the loans you'll need. Price is similar to interest rate, which we'll go into again in the next section.
Interest Rates
You always want to check with your banking specialist regarding the interest rate. You also want to read all the literature given to you by the bank about your new banking products very thoroughly. That's because banking accounts are highly complicated financial tools, and we don't want to mislead you by oversimplifying it here. Your Citizens Bank loan or mortgage specialist will take into account lots of different factors in determining the interest rates for your loan, including but not limited to market conditions, the federal interest rate at the time of the loan, your personal credit, how successful your business is, and many more data points. From this stew of data, the bank's actuators will calculate their offer to you.
Loan Options
Citizens Bank is not as advanced in the disruptive element of fintech partnerships that our featured bank, Cross River Bank, is. Citizens Bank is going to focus more on financial products and services, including the typical loan options that you'll find at a traditional bank. This includes your mortgages, student loans, credit cards loans, automotive loans, personal loans, and corporate business loans.
Public Opinion
Spurred mostly by ad campaigns of people helping other people, the public generally regards Citizens Bank well enough to shop there for financial products. That said, again because of Cross River Bank's disruptive methods of technical infrastructure implementation, Citizens Bank may not be perceived as quite as advanced as Cross River Bank. That said, Citizens Bank offers a lower-risk option for personal banking because of its less-risky, less tech-centric focus.
Loan Terms
Citizens Bank is a more or less traditional bank that will base your loan terms upon many factors. If you run a very strong business, they're going to offer you more favorable terms than if you're a risk. As is standard with any secured loans, you're going to be putting up collateral as a means of securing your loans. If you're just getting a Citizens credit card, obviously that would not apply as much. It all depends upon what's best for you, and in that regard, Citizens Bank will customize your solution to your individual needs.
Pros
Less risky in the regulatory sense

Less fintech-focused

Many more branches than Cross River Bank

Less vulnerable to new banking-tech rule changes
Cons
Cannot implement tech as fast as Cross River Bank

Less collaborative than Cross River Bank
Line of Credit
A line of credit is actually a form of a loan where a bank extends a pre-prescribed amount of cash for you that you need to pay back over time. Banks from Wells Fargo to Bank of America offer lines of credit that can often be approved within a couple days, assuming you're eligible.
Price
We price the ubiquitous "line of credit" because it's one of the more economical ways to borrow. It's definitely cheaper than a credit card. Most banks will include in their website a line of credit calculator that helps you understand what you're getting into before you sit down with the bank's loan specialist.
Interest Rates
We rate the interest rates for lines of credit at 3 out of 5 stars because they fall somewhere between rates for a secured loan and rates for a credit card. Of course, with credit cards, if you pay them off on time, then you're not paying very much at all, but most people need their credit for more than a month before paying it off.
Loan Options
lmost every traditional bank offers a line of credit of some sort. Generally, you want to dress up nicely and go to the bank with your spouse when applying for one, so the lender knows you're serious about paying it back and credible when you take out money. You can use it for things like buying an automobile, making home improvements, or starting a business. You're also going to need to tell your lending specialist about why you want the line of credit when you apply.
Public Opinion
Most millennials don't know what a line of credit is because millennials don't even own credit cards. While opinions about credit cards and the subject of debt is changing, we strongly caution the reader to take all debt-related matters very seriously—if you haven't gotten that already!
Loan Terms
Again, check with your lending manager at your bank for the details on what will be required for you. Know the terms of your loan inside and out because it is a legally binding agreement you will be beholden to make good on. So make sure the loan terms are favorable to the interests of you and your family, no matter what kind of line of credit you take out. Normally, with a personal line of credit, there is no grace period or frequent flyer miles, but you're getting cash, not just credit which can only be used to purchase goods and services. Because you're getting cash, you can use it more freely.
Pros
More favorable rates than a credit card

More flexible use than a credit card
Cons
Less favorable rates than a mortgage

Less favorable rates than any secured loan
Upstart Bank
Upstart Bank is a "fintech" company that was actually started by former Google employees. Of particular interest to our readers, it's actually the client-facing part of their partnership with our featured Cross River Bank. Cross River Bank provides the financial engine that helps Upstart run. And while that's a little confusing, both Upstart and Cross River Bank swear that tech-based banking is the way of the future. So, together, Upstart and Cross River strive to stay ahead of the regulatory requirements to keep your speed of banking flying.
Price
As the name implies, Upstart is about "upstarting" your business or your life. Its goal is to use its partnership with Cross River to help you pay the expenses you need to. Maybe it's a credit card; maybe you're trying to consolidate debt. There are few companies that are as centered on immediate, tech-enabled tending to your bills, and so it's difficult to compare it to its enabling Cross River Bank which serves a totally different role.
Interest Rates
Without all the traditional bank middlemen, Upstart is able to offer lower prices than Citizens Bank because of its fintech-enabled savings on overhead (no employees at the counter). Of course, you'll want to double check the literature from Upstart and consult with your Upstart specialist to make sure you thoroughly understand the interest rate, and how it may change based on your possible delinquency, before borrowing.
Loan Options
With the power of its partner, Cross River, Upstart serves as the customer-facing side of the partnership. Upstart uses Cross River's resources to offer its clients the ability to refinance former debt such as student loans and credit cards by offering consolidation services. It also helps clients order payments for medical bills, home improvement payments, rent and other personal expenses, and relocation. It does this directly from the Upstart homepage!
Public Opinion
As skepticism mounts toward Silicon Valley, Upstart makes very bold moves by trusting the financial model predicated on the success of companies like Cross River. That said, Upstart is becoming very profitable in this new cottage fintech industry, and there's no end in sight for it. It has not been around very long, so the public is waiting to see how the early adopters fare with the services offered. However, they seem to value it more than the shady-looking "payday loan" operations of old, which are increasingly fading away.
Loan Terms
Upstart loan terms are favorable to the person who needs them, often in an emergency. But like many businesses of this kind, they often use the urgent nature of the loan need as a means of charging premium rates that even a traditional bank may not charge. It's difficult to evaluate whether Upstart follows this common, largely unregulated dark realm of the emerging "fintech" industry. However, when it comes to all things web, as with loans, be skeptical.
Pros
Convenient

Very well-marketed

Capitalizes upon latest tech

Partners with our featured Cross River
Cons
New and untested

Susceptible to regulatory changes in fintech
Conclusion
It's the wild west of lenders out there, but the terrain of loans is getting even more dangerous than before with loosening moral standards among borrowers and lenders alike. And while technology might seem to be the magic bullet for all the industry's problems, it's good to remember that, just like social media, sometimes technology fouls up the very problems it's intended to fix.We've reviewed four distinct lending options for you and covered many types of loans from commercial to those more personal in nature. We've talked about Cross River Bank, which is pushing the envelope of what can and cannot be done in banking and lending, and is aggressively sharing its spoils to curry favor with more customer-facing partners in the industry. That is, essentially, the focus of this report: Cross River Bank's newfangled "fintech" and its partner in Upstart.Upstart can offer some "quick and dirty"-sounding types of solutions such as a website that allows you to pay off your medical bills without facing a lending agent in person. But keep in mind that there are downsides to not having a face-to-face meeting with your lender: less trust is engendered between you and that business.So, while "fintech" might help you edge out more pennies on the dollar by beating some regulatory hurdles and squeezing through the loopholes of the regulatory power's inability to keep up, those loopholes may close on you, or your "fintech" bank, or both.So, treat "fintech" in all its forms as you treat the very loans you're taking out—as a big risk. Because loans have the power to damage your life if you mismanage them. Some would suggest that by the time you're forced to take out a loan, you've already mismanaged your money.Don't naively think tech will fix all the kinks, because if anything is certain, it's that technology always invites almost as many problems as it solves. So, despite all the hype, don't write off Citizens Bank and that traditional line of credit just yet.