Last updated on August 17th, 2022 at 08:52 am
*This post may contain affiliate links. As an Amazon Associate we earn from qualifying purchases.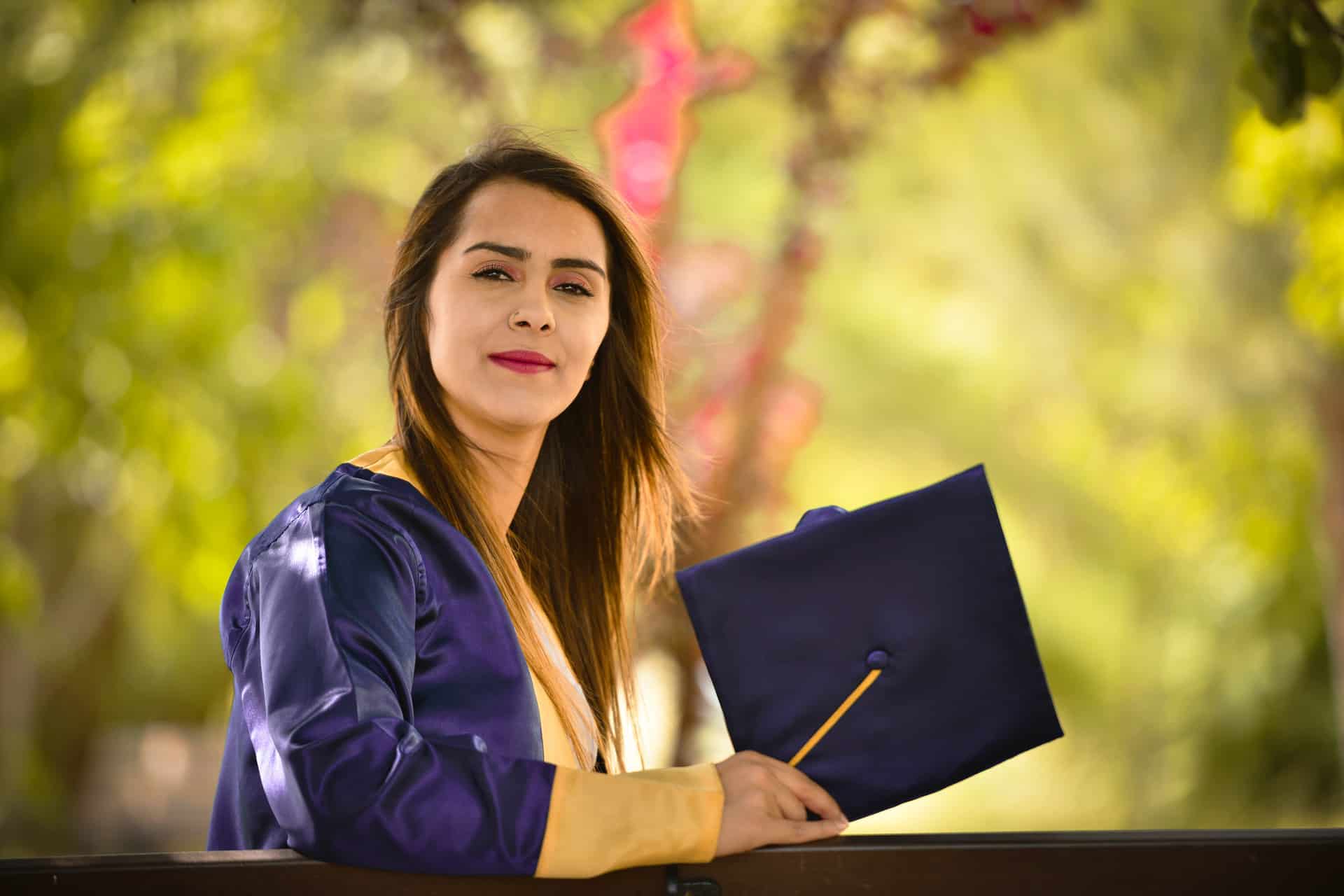 image via pexels
You may wonder how you will pay for school once you've decided to pursue high education. Because few people have a hundred thousand extra dollars sitting around their bank account, the best student loans are available to help finance your education.
Here we'll cover the best student loan basics. We provide information about federal loans, private loans, and answer the most frequently asked questions about taking out a student loan.
Best Student Loans FAQs
1. What Are Student Loans?
Student loans are any money borrowed from a lending institution used for pursuing post-secondary education. Education costs are often more expensive than students or parents of students can afford. People take out student loans as an investment for education.
Students who attend a qualified community college, university, graduate school, or schools that further career objects qualify for student loans.
2. What Are the Types of Student Loans?
Student loans come in two primary types: federal loans and private loans. Taking out a federal loan is always preferable to taking out a private loan. Federal loans are hands-down the best student loans available. If you are eligible for a federal loan, take it out before seeking assistance from a private student loan lender.
*Tip*
When reviewing the best student loan options, remember the annual percentage rate (APR). The APR is the rate interest is charged per year. Knowing this can help you estimate your repayment totals for the entire year. 
Federal Loans
Federal student loans are the best student loans because they are issued and protected by the US government. The terms of these individual or parent loans are backed by federally recognized laws.
These loans always include income-based repayment plans while many private loans do not. Federal student loans do not require the lender to make any payments while attending classes at least part-time.
Direct subsidized loans are the best student loans for those who do not have a cosigner because they are not based on credit.
3. How Do You Apply for Student Loans? 
To apply for student loans, you will need to first fill out and submit the Federal Application for Federal Student Aid (FAFSA). This free application is available online at the US Department of Education's Federal Student Aid division's website.
How We Reviewed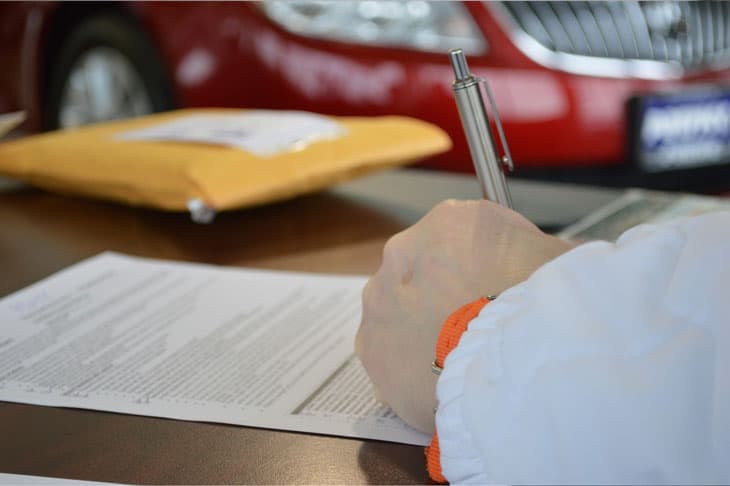 Image via: Pixab​​ay
The best student loans in the private sector were reviewed based on loan options and features, flexible repayment options, fees, ethical lender practices, incentives, discounts, and interest rates.
Range of Loan Rates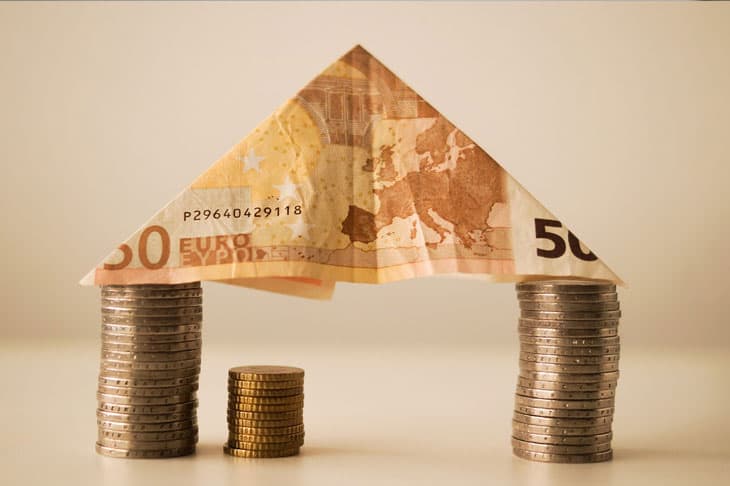 Image via: Pixaba​​y
​As with any loan, the best student loans are those that are provided with the lowest interest rates. Most of the best student loans we've reviewed have base interest rates around the 4.5% mark. This might make them seem more attractive than federal options, but keep in mind this is the base rate. Most private loans have a wide range for interest rates. The cap for interest rates is typically around 13%, which is substantially higher than any federal loan.
What We Reviewed
Sallie Mae

SunTrust

Ascent

SoFi

Earnest

Discover

Wells Fargo

College Ave

LendKey
Sallie Mae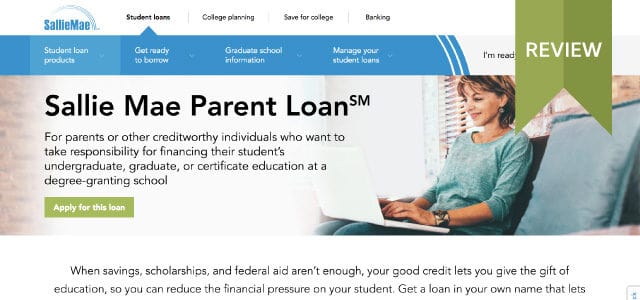 Image Via ​studentloa​​nhero.com​​​ 
Features 
Sallie Mae is a private lending company that offers student loans for undergraduate students, parents of students, and graduate students who are attending or wish to attend a degree-granting higher education institution.
The company doesn't charge an origination fee for loans. They do not penalize early loan payoff. Sallie Mae offers three repayment options with fixed payments, deferred repayment, and interest repayment options. The maximum repayment duration is 12 years.
Loan Rates
Loan rates at Sallie Mae have both variable and fixed interest rates. The current Sallie Mae variable interest rate ranges from 4.37% to 11.23% APR. Fixed interest rates offered by Sallie Mae range from 5.74% to 11.85%
PROS
Flexible loan rates

Student loan refinancing options

Affordable interest rates

Easy application process

Covers the cost of colleges fees

One-stop-shop for various loan options
CONS
The prequalification process leads to unwarranted communication from third parties

Not a direct provider

A lot of personal information required in the prequalification phase
SunTrust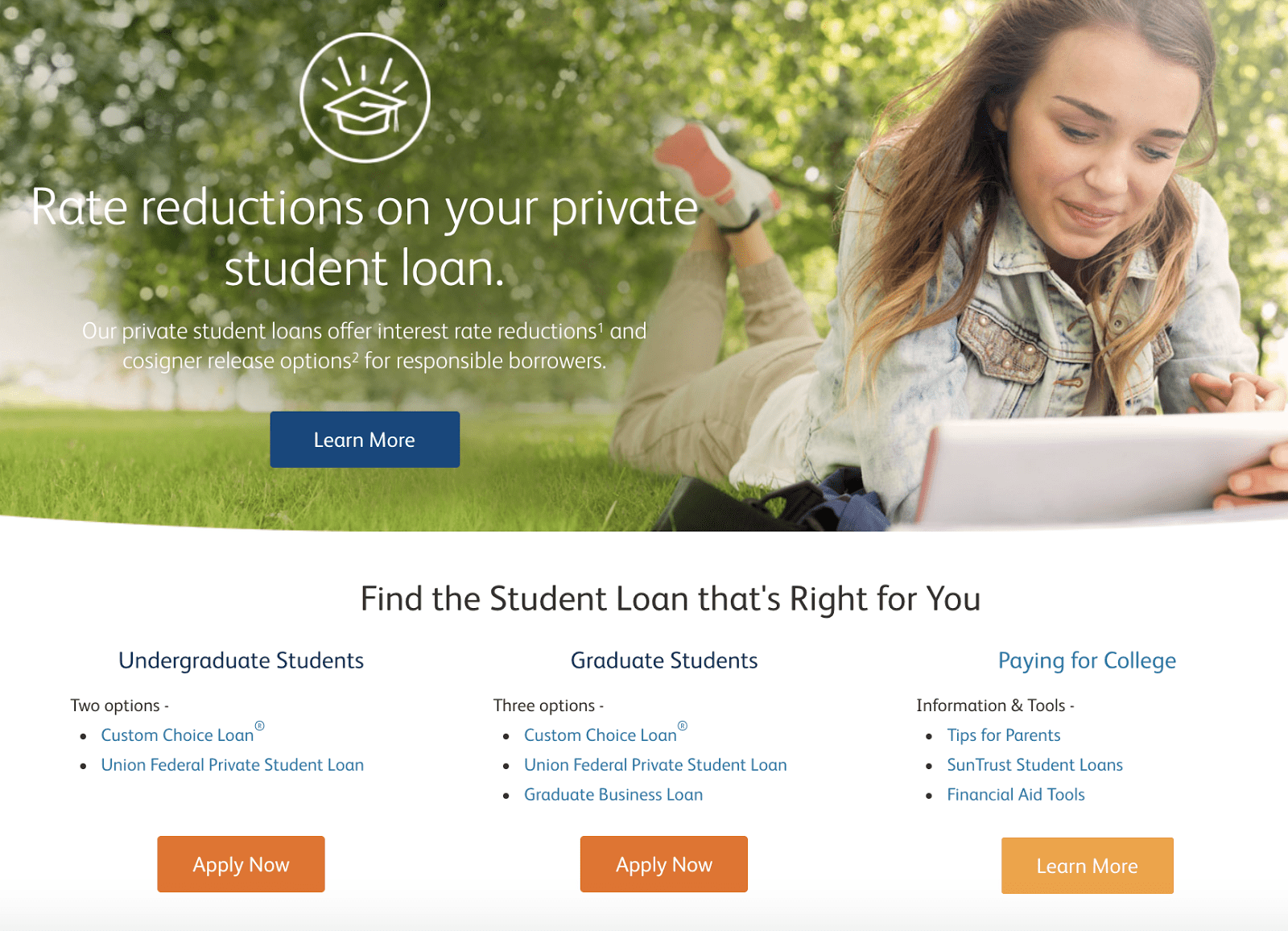 Image Via ​studentloanhero.c​​om​​​ 
Features
SunTrust is another source of private student loans. They offer funds for undergrads and grad students. The company lends a minimum of $1,001 up to $65,000 per year. The cosigner release is possible after 36 timely payments.
While in attendance, the repayment terms include deferment, interest-only payments, and partial-interest payments. Eligible students can take advantage of the company's interest-only payment schedule for up to 36 months after graduation. Students who graduate receive 2% reduced from their loan principal.
Loan Rates
SunTrust student loans have a variable loan interest APR range from 4.122% to 13.125% APR. The fixed APR range is from 5.347% to 14.050%. Signing up for autopay qualifies the borrower for an up to a 0.50% interest reduction.
PROS
36-month post-graduation interest-only payment option

Principle and interest rate reduction incentives

Easy and free application process
CONS
Loans aren't widely available to all students

$65,000 annual and $150,000 lifetime borrowing limit

Inflexible repayment terms
Ascent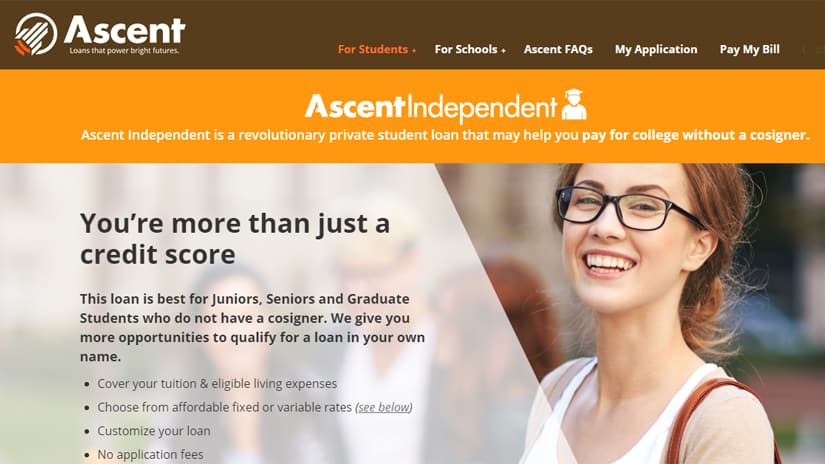 Image Via ​ascentstudentloans.com​​​ 
Features
Ascent student loans offer the Cosigned and Independent loan types. Independent Ascent loans are designed explicitly for undergraduate juniors or seniors who attend classes full-time.
The cosigned loan offers the lowest interest rates. For the Independent loan, Ascent will cover the full education and housing costs. They offer a graduation incentive of 1% money back for eligible students. Repayment terms for variable loans are 5, 10, or 15 years. Repayment schedules for fixed-rate loans are set between 5 and 10 years.
Loan Rates
The cosigned loan variable APR is at 4.06% to 13.06% Fixed APR rates for Ascent student loans are set at 5.66% to 14.73%.
PROS
They don't charge fees for the application, origination, or the disbursement of funds

Loan eligibility can be determined immediately online

Biweekly repayment schedule offered
CONS
Fixed-rate loans must have fast repayment

Loan rate interest inquiries impact credit score
SoFi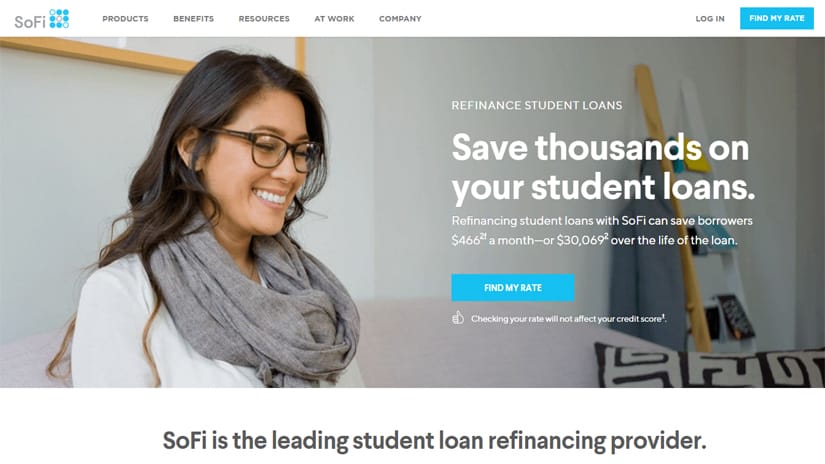 Image Via ​makelemonade.co​​​ 
Features
SoFi is a student loan refinancing lender, which means they repay your student loans from other lenders and consolidate your student loan debt into one payment. You the payment to them. They were the first company to consolidate federal and private loans. They offer Unemployment Protection, Career Support, and Wealth Advisors upon approval of loan consolidation. The company doesn't charge for application or origination, but the post-graduation income of approved borrowers is on average over $100,000.
Loan Rates
The rates for SoFi consolidation loans are eligible for a reduction of 0.25% for enrolling in autopay. With autopay, the variable rate is currently between 2.47% and 6.99%. For fixed repayment, the APR rates range from 3.899% to 7.979%.
PROS
Low consolidation interest rates

Post-graduate support programs

Consolidation of both private and federal loan principles
CONS
The company doesn't provide student loans

Cosigner release is not possible

Low acceptance rates for loan consolidation
Earnest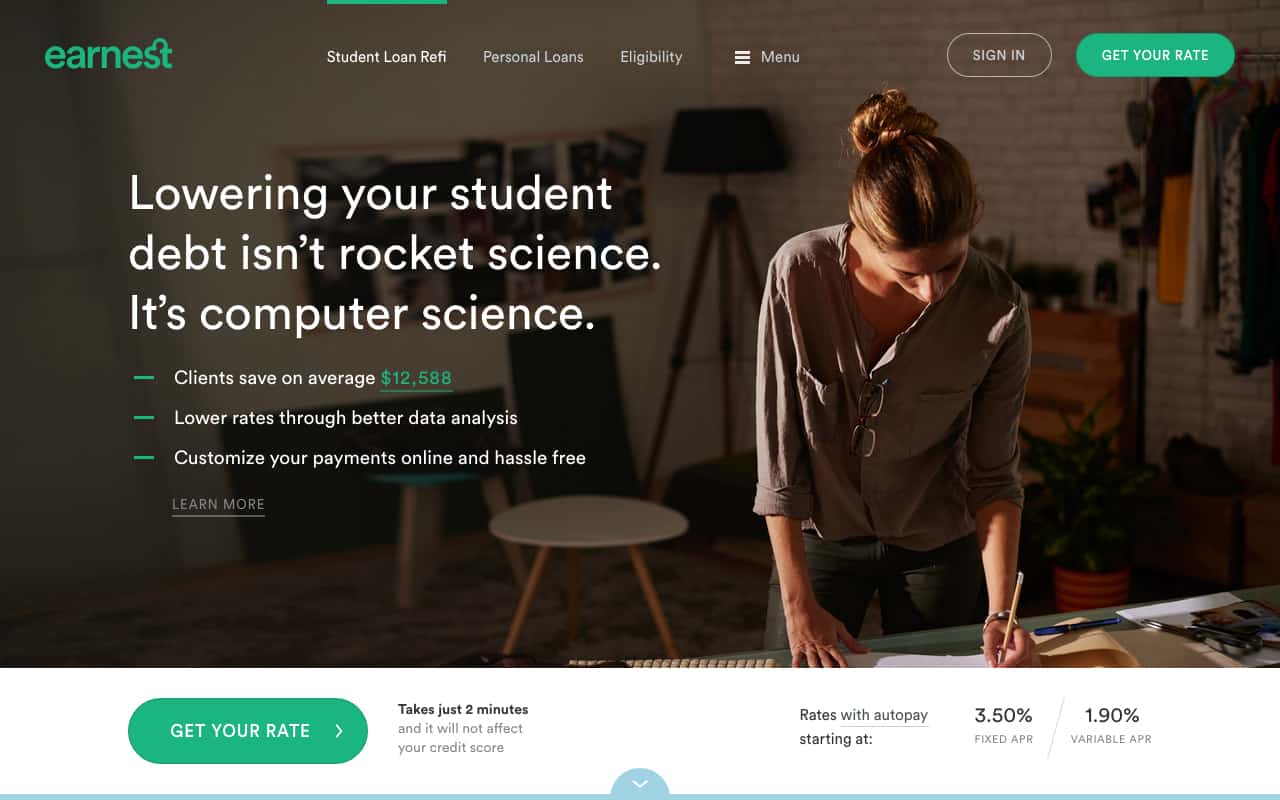 Image Via ​makelemonade.co​​​ 
Features
Earnest is another option for graduate and undergraduates who want to consolidate student loans. The company is owned by Navient. The refinancing terms for Earnest allow borrowers to miss payments without penalization, adjust payment dates, make extra payments without a fee, and consolidate both private and federal loans.
Loan Rates
A discount of 0.25% is offered for those who enroll in the Earnest autopay service. This makes the variable APR around 2.57% to around 6.97%. The fixed APR repayment rates start around 3.99% up to 7.89%.
PROS
They offer a convenient mobile app to manage your account

Estimates don't impact credit score

Flexible repayment options

No late fees
CONS
The company doesn't issue student loans

Applicants must apply individually without a cosigner

Many students aren't eligible for an Earnest account
Discover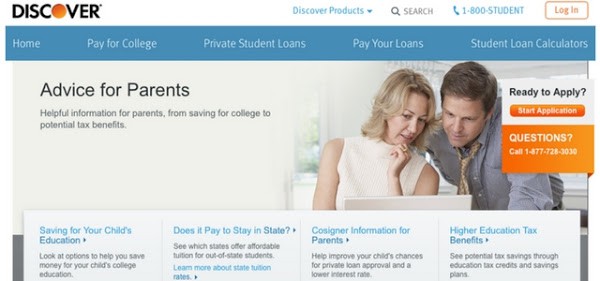 Image Via ​www.youtube.com​​​ 
Features
The credit card company Discover also offers private lending and consolidation services for educational genres. Loans are providedto undergraduates, graduates, MBA candidates, health professionals, and law students. They also offer loans to help with residency costs and for the Bar Exam. Borrowing from Discover allows financing eligibility for the total costs of attendance. They don't charge fees for applications, origination, or late payments. Discover also offers incentives for students who earn a 3.0 GPA or higher.
Loan Rates
Discover gives a 0.25% autopay discount for borrowers who use their autopay system. The variable APR for Discover student loans is around 4.87% to 8.12%, while the fixed APR is around 5.24% to 8.24%.
PROS
Offer 10 or 20-year loan terms

Repayment plans help low-income borrowers

Offer loans for nontraditional educational needs
CONS
Making extra payments isn't easy

Rate estimates will reflect on credit

Parent loans are nontransferable to the student
Wells Fargo Student Loans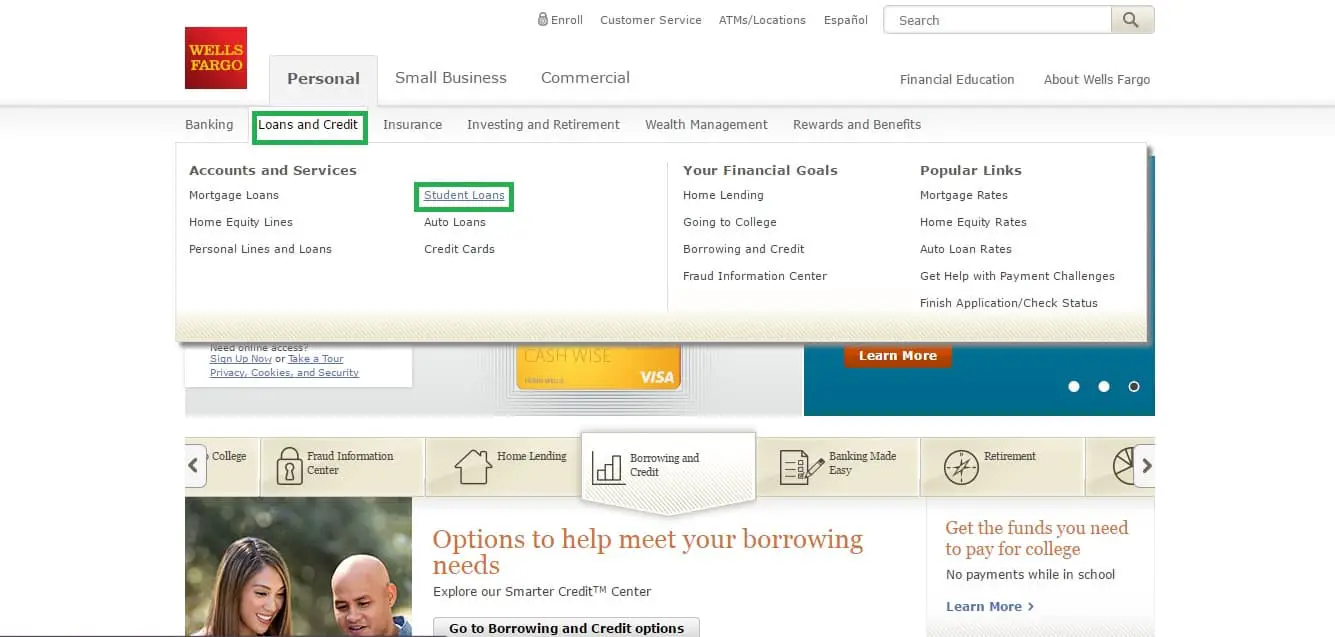 Image Via ​expressblogger.com​​​ 
Features
The big bank Wells Fargo offers student loans, parent loans, and loan consolidation associated with education costs. Students aren't required to make any payments while attending classes. Wells Fargo doesn't charge origination fees or fees for early repayments. The student loan options offered has a 15-year repayment term and a short 6-month forbearance period.
Loan Rates
Wells Fargo gives up to a 0.50% discount on interest rates when the borrower signs up for a checking account and for loan autopay. After the discount, their variable interest rates are around 4.81% to 10.72% APR. The fixed rates are around 5.94% to 11.26% APR.
PROS
High discount for autopay

Easily accessible representative support through email and phone

Cosigner release available after two years of timely repayment
CONS
Short forbearance period

Lurid history of illegally charging fees to borrowers

Low limits for parental borrowers
College Ave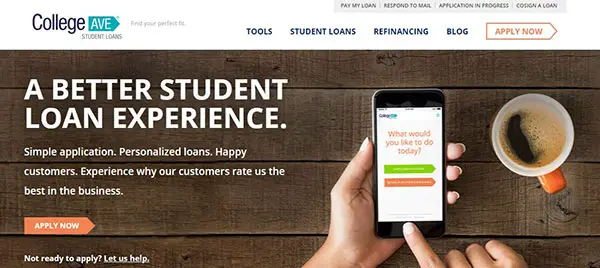 Image Via ​basicfinancialtips.com​​​ 
Features
College Ave student private loans are available to undergraduate US residents attending an eligible higher education institution or undergraduates and graduate students studying career-oriented pursuits. They also offer loan options for parent borrowers.
The company doesn't charge a fee for the instant application, loan origination, processing, or early repayment. College Ave provides a variety of repayment options including options for principle and interest rates, fixed and variable, interest-only, and deferred payment plans. They offer the repayment schedules of 5, 10, and 15 years.
Loan Rates
College Ave's autopay discount is set at 0.25% and applies to the variable and fixed interest rates. The variable interest rate is around 3.94% to 11.19% APR, and the fixed interest rates are around 5.29% to 12.78%.
PROS
Residency rather than citizenship qualifies applicants for loans

Cosigner release is available after 24 months of on-time payments

Estimates do not reflect on credit score
CONS
Forbearance policy isn't set/it's based on individual financial circumstances

College Ave doesn't provide options for economic hardship

Not available to international applicants
LendKey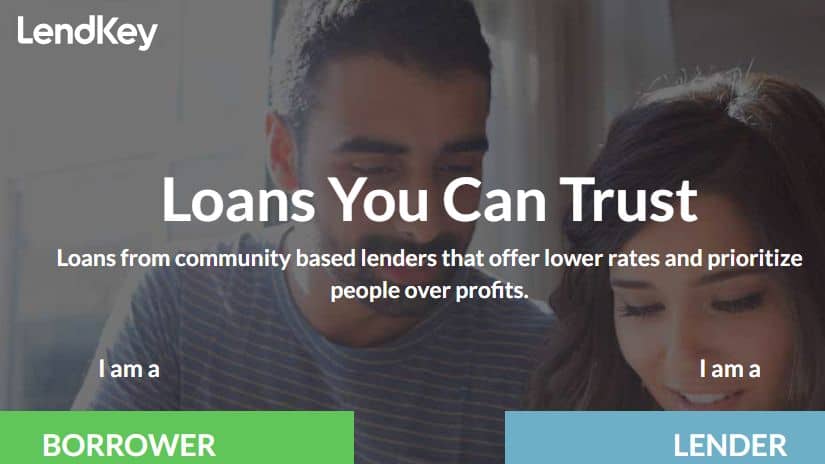 Image Via ​basicfinancialtips.com​​​ 
Features
LendKey is a student loan facilitator; they connect borrowers with lenders. The lenders are usually community banks or credit unions. The services available on the platform include both student loan disbursements and refinancing options. There aren't any application fees, and their website offers a user-friendly interface to streamline the student loan borrowing process.
Loan Rates
LendKey's rates are based on the rates provided by their community bank or credit union partners. This makes the rates a little unstable. We've found the variable rates can be as low as 2.51% and 8.11% APR, while the lowest fixed rates are around 3.50% and 8.82%.
PROS
Easy to use website

Borrow locally instead of from corporate lenders

Offer cosigner release options (variable)
CONS
Many students aren't eligible for borrowing

Parent to child loan transfers aren't available
The Verdict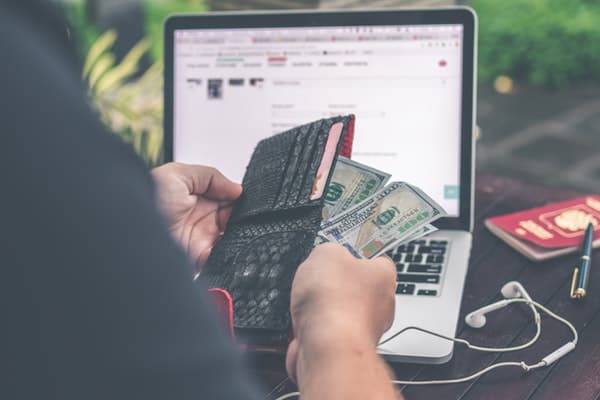 image by pexels
The best student loans are always federal student loans. Because federal loans are regulated and not consistently available to everyone, some students may need to take out private loans.
The best student loans issued by private lenders are those with the lowest interest rates and the most flexible repayment terms. Because interest rates are customized for the student, it's impossible to say which lender provides the best student loans for you. The best bet is to investigate as many of the free estimate options available to you before taking out a loan from a private lender.