Last updated on September 16th, 2022 at 02:57 am
*This post may contain affiliate links. As an Amazon Associate we earn from qualifying purchases.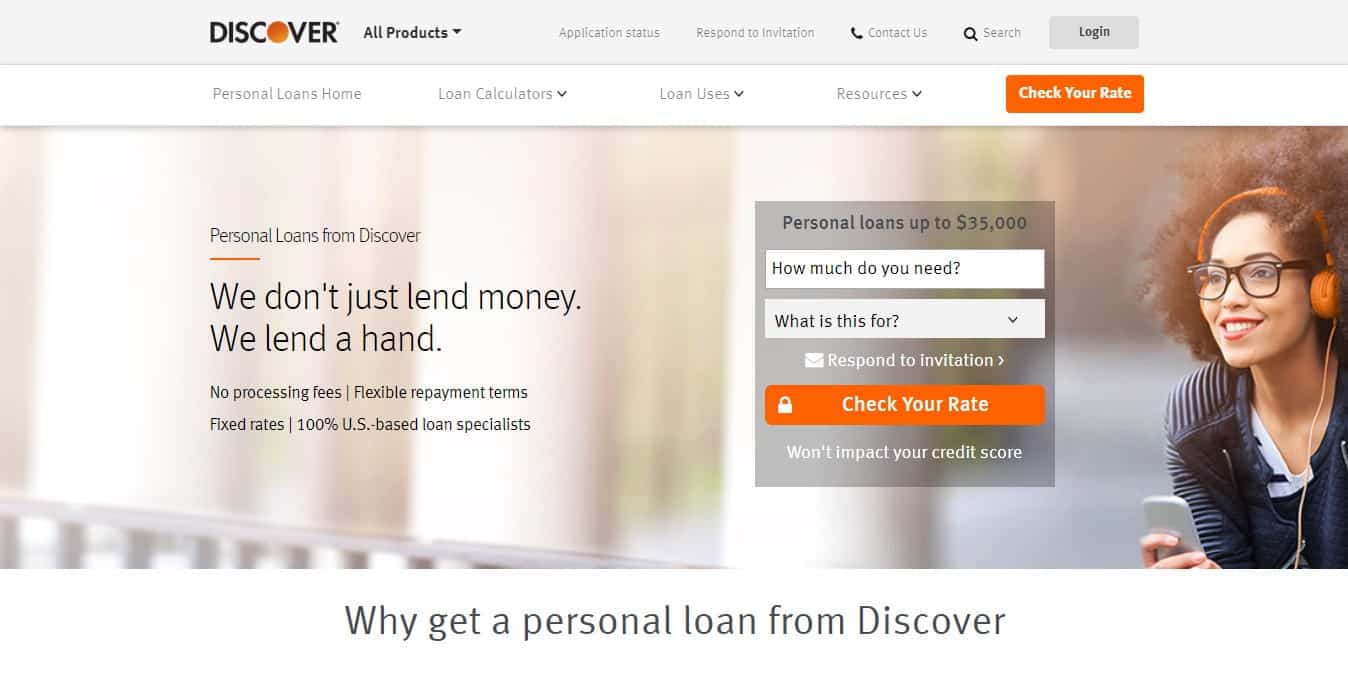 Image from Discover
When you need a loan to start a business or consolidate debt, apply at Discover Personal Loans. Discover Personal Loans is a division of Discover Financial Services, which also owns Discover Bank and Diners Club International. A Discover account is not required to apply for a personal loan. Personal loans differ from credit cards. Credit Cards generally have higher interest rates and lower minimum monthly payments. Personal loans have lower interest rates but require higher monthly installment payments.
You can use the loan proceeds for any purpose, such as a vacation, school funding or purchasing a big-ticket item like a home appliance. Discover Personal Loans is especially popular for debt consolidation and small business loans. Entrepreneurs who don't qualify for a business loan can get funding through Discover Personal Loans.
In the following paragraphs, we'll delve into the details of how you can obtain a personal loan from Discover Personal Loans and the loan terms. In addition, we'll compare Discover Personal Loans to similar products, including fixed-rate loans, variable-rate loans and co-signer loans. We also reveal the pros and cons of Discover Personal Loans to help you determine if Discover Personal Loans is the lender for you.
What Are Discover Personal Loans?
Discover Personal Loans came into existence in 1985. It was originally a subsidiary of Sears but is now owned by Discover Financial Services. Its entire business consists of providing unsecured installment loans to the consumer market. The lender provides loans in all 50 states. On its website, Discover Personal Loans markets itself as providing not just a loan but a hand up for its customers. It offers loans to help customers manage debt, start businesses, pay for home repairs and otherwise improve their lives and manage necessities.
The company notes on its website that three of its main competitors are Lending Club, Wells Fargo and Prosper Funding. A comparison chart shows Discover Personal Loans strengths relative to these competitors. Unlike these competitors, Discover provides 100 percent U.S. based customer service. Its payment plans offer more flexibility, and customers gain access to the Discover Credit Scorecard. Discover Personal Loans customers also pay no origination fees.In addition to providing installment loans, Discover Personal Loans offers financial management and education tools. Customers can use these tools to create budgets, estimate repayment amounts and decide how much to borrow. The Discover Credit Scorecard provides up-to-date credit scoring, which allows customers to manage and improve their credit.
Product Specs
​Doing business with Discover Personal Loans comes with many advantages. Discover deposits the full loan proceeds in customer bank accounts within 24 hours of loan approval. Customers have 30 days to rescind the loan and pay no interest or penalties. Loan approvals are often granted within one business day. Additionally, customers save money because of these features:
No origination fee

No closing costs

No prepayment penalty

6.99 to 24.99 percent fixed interest rates

Loan terms between three and seven years

Loan amounts between $2,500 and $35,000
With flexible terms and many opportunities for cost savings, Discover Personal Loans provides some of the most cost-effective installment loans in the industry. Most installment loan companies cap loan terms at 60 months. The ability to extend it to seven years helps many customers set up an affordable payment plan. Read the section below to see if you qualify.
Qualification Standards
Discover provides low interest rate and no-fee loans to well-qualified customers. Unfortunately, some applicants cannot qualify because of a low credit score or lack of stable income. Here are the general qualification standards:
660 or higher credit score

18 years of age or older

U.S. citizen or legal resident

Minimum $25,000 annual income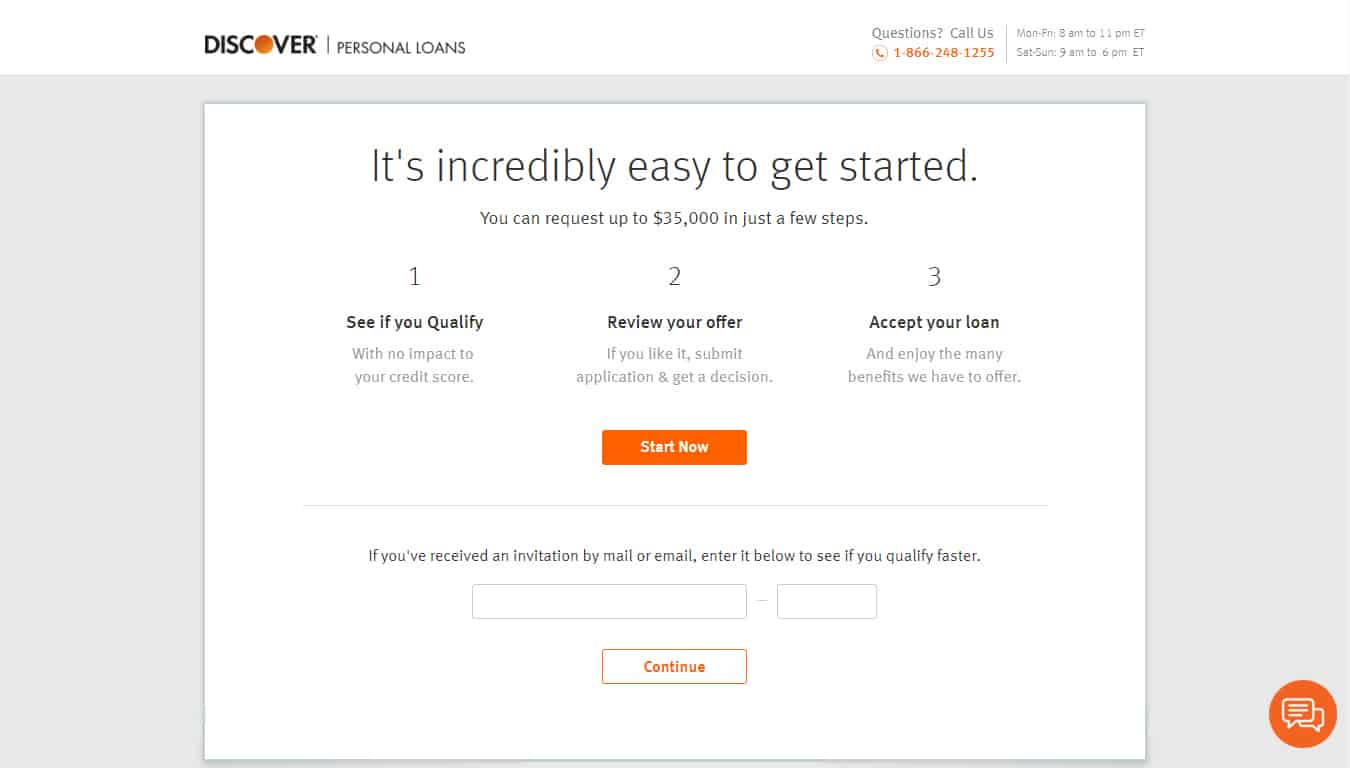 Image from Discover
Application Process
To apply, navigate to the Discover Personal Loans website. You'll be asked to complete an application that asks for your income, assets and other financial information. Discover then does a hard credit pull. If you qualify, a loan specialist will telephone you within one business day. Your loan specialist will help you select a repayment plan.
Pricing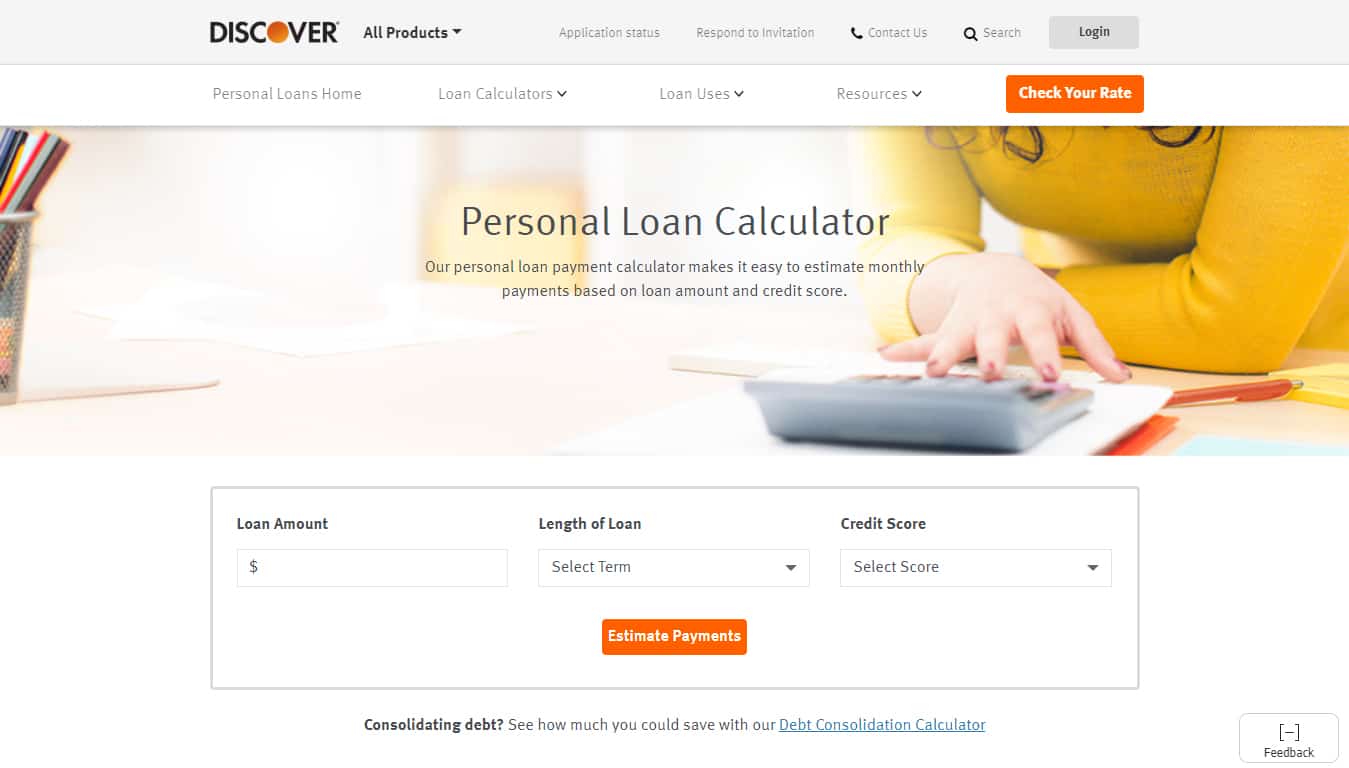 Image from Discover
Interest rates run between 6.99 and 24.99 percent. The interest rates depend on credit score, income and other financial history. Here are some examples:
6.99 to 8.99 percent for 800 to 850 credit scores

9.99 to 13.99 percent for 740 to 799 credit scores

13.99 to 17.99 percent for 660 to 739 credit scores
These rates are advantageous for debt consolidation loans. Many customers also use these loans to start businesses. An installment loan from Discover Personal Loans is safer than a traditional business loan because no collateral is required. Many business loans require the owner to stake their home or business property. Though Discover can legally enforce the debt, it cannot seize a home or crucial business assets.
How It Compares
We picked a few similar products available on the market to see how they compare.     
Fixed-Rate Loans

Variable-Rate Loans

Co-sign Loans
Discover Personal Loans

Price
Other than a late payment fee of $39, Discover Personal Loans charges no fees.
Interest Rate
Interest rates are competitive for customers with good credit; however, customers with credit scores in the high 600s to low 700s have to pay 13.99 percent to 24.99 percent.
Loan Options
The no collateral business loan helps many people start a business. Debt consolidation customers can have payments sent directly to creditors.
Pros
No collateral business loans

No origination fee or closing costs

Fast application and funding processes
Cons
Requires high credit scores

High interest rates unless your credit score is superb

Stringent financial qualification standards
Public Opinion
Most reviews give Discover Personal Loans great ratings. The company provides excellent customer service. Some customers, especially if not high on the credit scale, complained that interest rates were higher than expected.
Loan Terms
Few lenders offer terms as long as 84 months for personal loans.
Fixed-Rate Loans
Fixed-rate loans are great for salaried or otherwise financially stable people. They can set up manageable monthly payments that slowly pay off debt. They are also beneficial for people with lots of different debts. These debts can be consolidated into one payment with a lower interest rate. Many borrowers also reduce their monthly outgoings.
Price
Fixed-rate loans often charge between 2 and 5 percent of the loan value in fees. Discover Personal Loans is one of the few that has no fees. 
Interest Rate
Interest rates average between 5 and 13 percent. If overall rates fall, the borrower still must pay the higher rate.
Pros
Regular payment amount

Saves money over high interest credit cards

Can borrow up to 4X monthly salary
Cons
Many companies charge high fees

No interest rate reductions

Costs to refinance
Loan Options
Fixed-rate loans are great debt consolidation tools.
Public Opinion
Some reviews of fixed-rate loans complain of high fees and interest rates while other reviews show big savings. It pays to shop around.
Loan Terms
Most fixed-rate installment loan companies provide terms between 12 and 60 months.
Variable-Rate Loans
Variable-rate loans have fluctuating interest rates. Credit card accounts are one of the most familiar variable rate loans. The interest rate of variable-rate loans is tied to the prime rate. The bank charges a spread, which is the amount over the prime rate a customer must pay. The higher the spread, the higher the bank's profit. In a competitive marketplace, banks must provide well-qualified customers with interest rates close to prime. The banks make more money on customers with poorer credit scores because they can charge a higher interest rate, but the bank also accepts a higher risk of default.
Price
For customers with good credit, variable-rate loans provide the lowest interest rates. However, customers with poorer credit are often charged very high variable rates and fees.
Interest Rate
Variable-rate loans are set at a lower amount than fixed loans at the start. As a short-term option, a variable-rate loan saves money over a fixed-rate loan; however, in times of rising interest rates, payments on variable-rate loans can increase substantially. Many variable-rate loans also offer teaser rates and enforce penalty interest rates for slow payers.  
Pros
Lower initial payments

Can be easier to qualify

Flexible payment arrangements
Cons
Payments can skyrocket if interest rates rise

Adjustable-rate mortgages contributed to the financial crisis

Too much revolving debt damages credit ratings
Loan Options
Credit card variable interest rates are often crippling. These types of loans should be paid off or consolidated with an installment loan. Adjustable rate mortgages reset in as little as one year. As interest rates rise, a home can quickly become unaffordable, leading to a forced sale, foreclosure or bankruptcy.
Public Opinion
Public opinion often blames the two primary users of variable rate loans—credit cards and adjustable rate mortgages—of damaging household finances with excessive interest rates and fees.
Loan Terms
Variable-rate loans provide the most flexibility.
Co-sign Loans
There are many types of loans that require a co-signer. Financial institutions require a co-signer when they believe the primary borrower presents an unreasonable risk of defaulting. This can be the case because of a lack of credit history, a bad credit history, a bankruptcy, a repossession or a foreclosure. A bank may also require a co-signer if the borrower lacks a stable income. People with trouble accessing credit often ask friends or family members to co-sign for car loans, credit cards or apartment leases.
Price
A co-signer allows the primary borrower to obtain credit on better terms, so there are often cost savings.
Interest Rate
Co-signers often help borrowers obtain financing at a better interest rate.
Pros
Helps people during times of financial difficulty

Allows for better credit terms

Helps borrower to build a more positive credit rating
Cons
Co-signer can be subject to collection activity

Co-Signer can be subject to legal ramifications

A default goes on both the borrower's and co-signer's credit report
Loan Options
Co-sign loans are available for all types of credit, including credit cards, auto loans, home loans, personal loans and leases.
Public Opinion
Because the co-signer is legally responsible for the debt if the borrower defaults, members of the public are often wary of co-signing. Many people will only co-sign for immediate family members, and some people won't co-sign at all.
Loan Terms
The borrower may get better loan terms; however, the co-signer takes on tremendous legal exposure when co-signing for a big-ticket item. The co-signer can be subject to collection activity and sued by the lender if he or she fails to bring the account up to date. This can lead to a loss of savings, additional debt, legal fees, wage garnishments or bank levies.
Conclusion
Discover Personal Loans helps customers obtain credit at reasonable interest rates without paying high fees. Many lenders charge substantial origination fees and closing costs. Many loans are also subject to prepayment penalties. In addition, Discover Personal Loans offers repayment terms of up to 84 months. Most of its competitors limit terms to 60 months. The longer term can go a long way in making the loan affordable. The downside to Discover Personal Loans is the qualifying standards are high. Even people with good but imperfect credit may have to pay more interest or may be declined. Entrepreneurs who are opening a business should consider Discover Personal Loans. The $2,500 to $35,000 loan sizes can contribute a great deal toward startup funds. Unlike other business loans, Discover Personal Loans doesn't require the entrepreneur to have already established revenue streams to qualify. Also, unlike many business loans, Discover Personal Loans doesn't require collateral. Because of this, the borrower doesn't risk his or her business property or home if the business goes under.
Discover Personal Loans provides helpful customer service and flexible payment terms. Though the credit standards are a bit stringent, these loans are excellent for people with good credit who want a debt consolidation loan, are starting a business, or need a chunk of cash for an event like a wedding or vacation. For great customer service and flexible loan programs, we give Discover Personal Loans 5 stars.
Featured image by Tumisu via Pixabay.